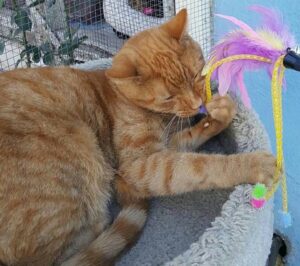 For many years our mom has had a series of "foster felines" through a cat rescue in California known as Pet Pride. She just learned that her last foster cat, Bandit II, had crossed the Rainbow Bridge at age 16. She has now been assigned a handsome orange cat named Sheldon. A nice person at Pet Pride described him:
He is a neutered male who came to us in 2014 due to a death in his family. He is now 6 years old and is still waiting for his "Special Home". In the meantime, he has lots of fun at the "Home for Cats" and really enjoys playing with toys as you can see in his photo.
Mom is thrilled to support this lovely boy through monthly donations. We would like to meet him in purrson, but Mom says he lives too far away. We think he looks a lot like Mitchner McGarrulous.